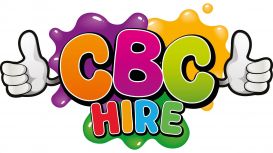 CBC Here is a family run business that specialises in bouncy castle hire and is based in Doncaster, We have a wide range of Inflatables available for Hire from Bouncy castle, Soft Play and Marquees, CBC Here deliver and Hire to all of Doncaster, Rotherham and Sheffield areas.
Please note delivery charge may apply to some areas. delivery is 8 am to 12pm or an agreed time we have arranged and collection will start at 6 pm. Overnight charges do apply and if wanted overnight on all bouncy castles £20 and our inflatable night club is £30. The area must be secure as you will be billed for theft or damage to any of our items/equipment.
We're dedicated to offering an outstanding bouncy castle hire service to everyone who chooses us. You'll love the top-quality inflatables you receive when you choose CBC Here for your event! We're happy to delivery bouncy castles in Doncaster, Sheffield, Rotherham and any of the surrounding towns and cities. You can rely on our expert team to make sure your party goes off without a hitch!
Reviews and Ratings
I hired a Spider-Man bouncy castle for my son's 3rd Birthday party and I couldn't have been happier with the service. It was delivered on time, was clean and ready to use and was left with us a bit longer at no extra charge. Staff were really friendly and my son had a great time. I would definitely recommend and will use this company again.
What a great company! They are very professional and timely. They are super professional team and are very patient with us. Set up and take down was timely as well. The goods was extremely clean! I can't say enough about how great this company is! Book them now.
Excellent service from this friendly well run business. We hired a bouncy castle and bouncy slide for a charity event this year and the service we received was friendly, professional and value for money. I would and have recommended this company to people i know and come into contact with through my own business. Keep up the amazing work.