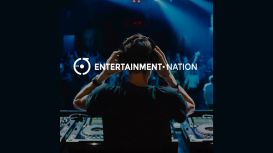 Entertainment Nation is brimming with top UK talent to make your special event magnificent. From energetic pop and rock function bands to floor-filling DJs, serene string quartets to exciting soul and Motown party bands.
Whatever you're looking for in live entertainment, you'll find it with Entertainment Nation. Founded by pro musicians, Entertainment Nation offer the best live entertainment hire service in the UK!
Reviews and Ratings
Sonic Boom were just amazing I really couldn't of picked a better band, all 3 of them were lovely professional people. They were very accommodating to our needs whilst setting up for the evening and everyone said how amazing they were. The dress code was perfect as were both preformancings, my only disappointment was that nearly all my guests had left half way through their second set and I had left before they finished but really they were amazing. They were right on time and set up quickly without any problems, that I know of that is. I would give them a solid 5 of 5 and even higher and have actually recommending them to several friends of mine and if the occasion ever arises for me to higher another band they would be my one and only choice. Thank you for everything, it was so easy to book this band and every time I had a problem or concern you sorted it out for me. It made my wedding a truely wonderful day.
Let Us Entertain You were absolutely amazing at our wedding, from start to finish - we had countless people come up and say how fantastic they were - the energy was amazing, and everyone was so talented. It really made the evening, and the dancefloor was never empty when they were playing. In the build up to the event, they were very flexible and made the effort to learn our first dance song, a song for me and my dad, and some others we requested. Even when there was a mix up with the food on the night, the band were very understanding and really friendly and chatty, too. We took absolutely ages finding the perfect band, and I'm so glad we found you! I will definitely be recommending to anyone who asks. 5/5!
Boogie Brothers were fantastic, they took everything that we asked for into account and even some last minute changes the bride demanded! They were relaxed, made the crowd feel comfortable and played a fantastic version of our first dance - 'you and me' by the Wannadies. They entertained the children with a great DJ set initially and then changed quickly for the adults when we were ready to dance. They listened carefully to our wishes with songs and set lists and the whole experience was very controlled and prepared. Everyone is still talking about 'I predict a riot' it had the whole party dancing! Thank you again, I would recommend you highly to friends and relatives. The Boogie Brothers liven the mood, make you feel relaxed and play fantastic versions of great songs. My friends and family are going to be talking about it for years! Thanks for making our wedding truly memorable!